Bride to Be Beauty Plan
As a bride to be wedding preps are most important until your big day. That day is meant to be a very special day in your and your partner's life. Of course you want to look flawless that day and not only shine from the outside but inside as well!
To achieve that goal I started to read everything about the special pre-wedding skin care treatments and also tried some products at home. Unfortunately, I soon realized that the products weren't meant for my skin. I normally have a "normal skin" with an oily T-Zone. But when trying all the products my skin overreacted soon and pimples became the only visible result.
I got frustrated and quit on a treatment products until my attention went to Dermacolla.//
Für eine zukünftige Braut sind die Hochzeitsvorbereitungen bis zu Ihrem großen Tag am wichtigsten. Dieser Tag soll der bis dato schönste Tag in ihrem und der ihres zukünftigen Mannes werden. Natürlich möchte man an diesem Tag makellos aussehen und nicht nur von außen glänzen, sondern auch von Innen glänzen!
Um dieses Ziel zu erreichen, habe ich selbst angefangen alles über die speziellen Pre-Wedding Hautpflegebehandlungen zu lesen und diverse Produkte selbst ausprobiert. Leider musste ich bald erkennen, dass die Produkte nicht für meine Haut geeignet waren. Ich habe normalerweise eine "normale Haut" mit einer teilweise öligen T-Zone. Jedoch habe ich mit den Test der verschiedensten Produkte meine Haut so strapaziert, dass sie überreagierte und als Folge Pickel das einzige sichtbare Ergebnis darstellten. Etwas frustriert habe ich die Verwendung aller Produkte gestoppt und mir geschworen jetzt überhaupt nichts mehr zu versuchen, bis DERMACOLLA meine Aufmerksamkeit erregte.
DERMACOLLA is a premium nutritional cosmetics product in the form of a drinking ampoule with collagen peptides as the main active ingredient. Since collagen is an important building block of our skin it made sense to me an I was willing to try it.//
DERMACOLLA ist ein hochwertiges Nutrikosmetikprodukt in Form einer Trinkampulle mit Kollagen-Peptiden als Haupt-Wirkstoff. Da Kollagen ein wichtiger Baustein unserer Haut ist und ich dadurch sehr neugierig geworden war, wollte ich es unbedingt ausprobieren.
Für die Herstellung von Kollagen und eine kontinuierliche Zellerneuerung, braucht unsere Haut im fortschreitenden Alter genügend Nährstoffe, da sich der Stoffwechsel verlangsamt und die Kollagenbildung in der Dermis abnimmt. Die Haut bindet nicht mehr genügend Feuchtigkeit, was zu Falten führen kann und das vor allem im Gesicht, Hals, Dekolleté und Hände.
Bei der Verwendung von DERMACOLLA können die folgenden Ergebnisse erzielt werden:
Reduzierung von Falten
Verbesserung der Hautelastizität
Erhöhung des Feuchtigkeitsgehalts der Haut
Erfrischender Teint
For the production of collagen and continuous cell renewal, our skin needs sufficient nutrients as the age progresses, the metabolism slows down and collagen formation in the dermis decreases. The skin no longer binds enough moisture, which can lead to wrinkles, especially in the face, neck, décolleté and hands.
With the usage of DERMACOLLA it is said that you will receive the following results:
Reduces wrinkles
Improves skin elasticity
Increases the moisture content of the skin
Refreshes the teint //
USAGE It is recommended to take one ampule on a daily base before or during meals.

DURATION OF USAGE To achieve the best effect, DERMACOLLA should be taken over a period of at least three months. Therefore, a long-term usage of DERMACOLLA is recommended.//
VERWENDUNG Es wird empfohlen täglich eine Ampulle vor oder während dem Essen einzunehmen.

DAUER DER NUTZUNG Um den besten Effekt zu erzielen, sollte DERMACOLLA über einen Zeitraum von mindestens drei Monaten eingenommen werden. Daher wird eine langfristige Nutzung von DERMACOLLA empfohlen.
I have been using DERMACOLLA for about 5 weeks and I have to say that I already noticed and improvement of my skin which feels more moisturized and has less pimples. I will definitely continue using it. If you are interested in the product as well you can shop it here.
For more impressions also check out their beautiful Instagram account.//
Ich habe DERMACOLLA jetzt für ca. 5 Wochen ausprobiert und kann sagen, dass ich bereits jetzt schon eine erste Verbesserung meiner Haut bemerkt habe. Ich habe definitiv weniger Pickel als vorher und meine Haut fühlt sich generell "voller" an, was wohl den erhöhten Feuchtigkeitsgehalt zu verdanken ist. Ich werde das Produkt daher auf jeden Fall weiter benutzen. Wenn ihr euch auch für das Produkt interessiert, können ihr es hier erwerben.
Für mehr Eindrücke, solltet ihr euch unbedingt auch das Instagram-Profil der Marke anschauen.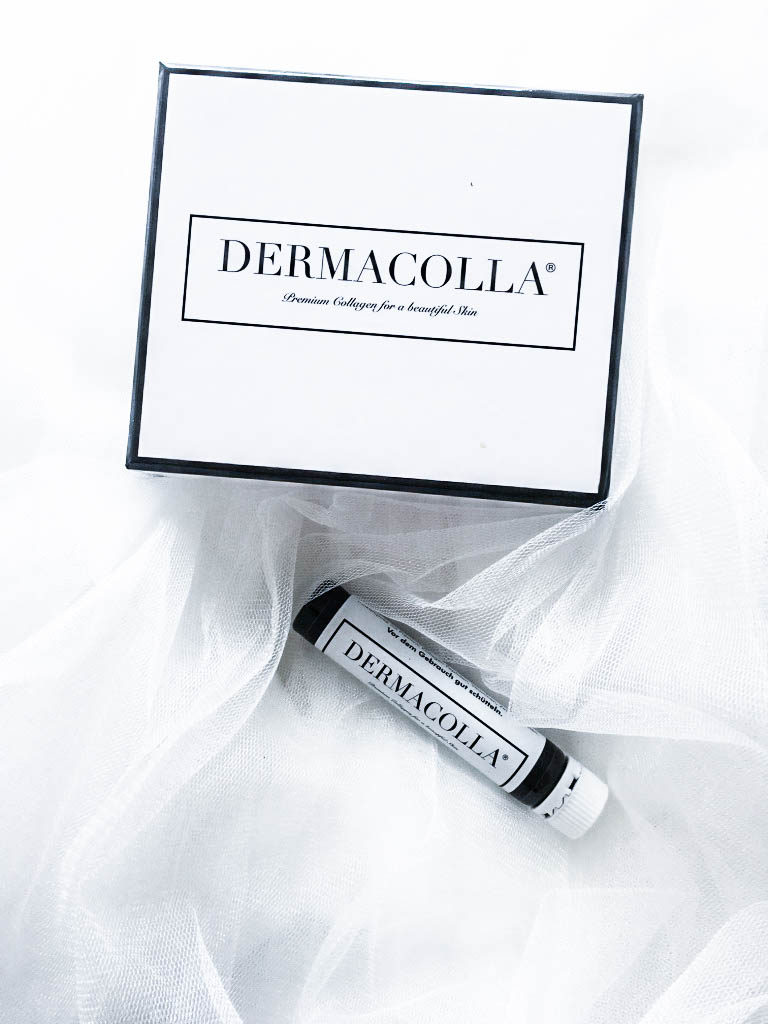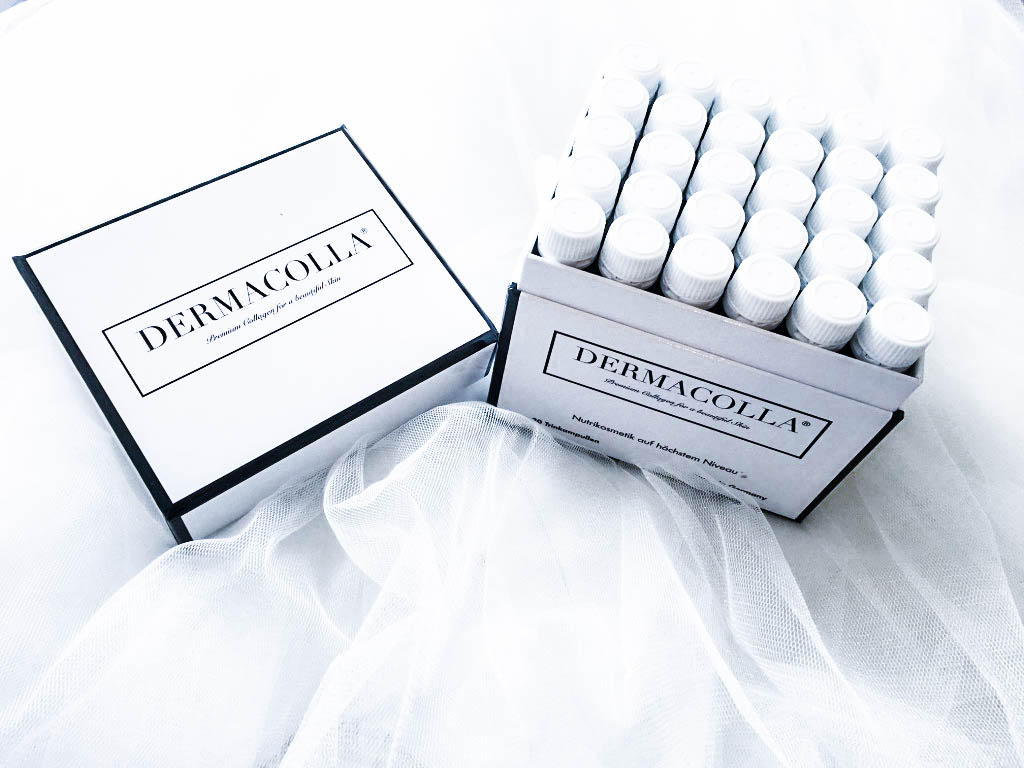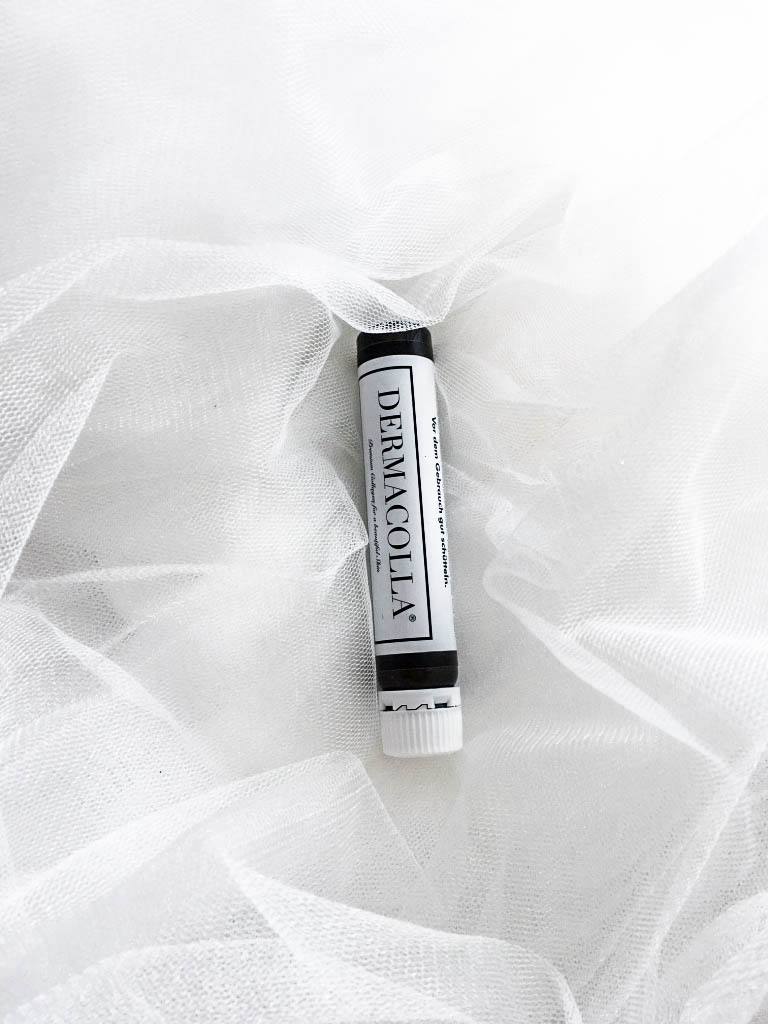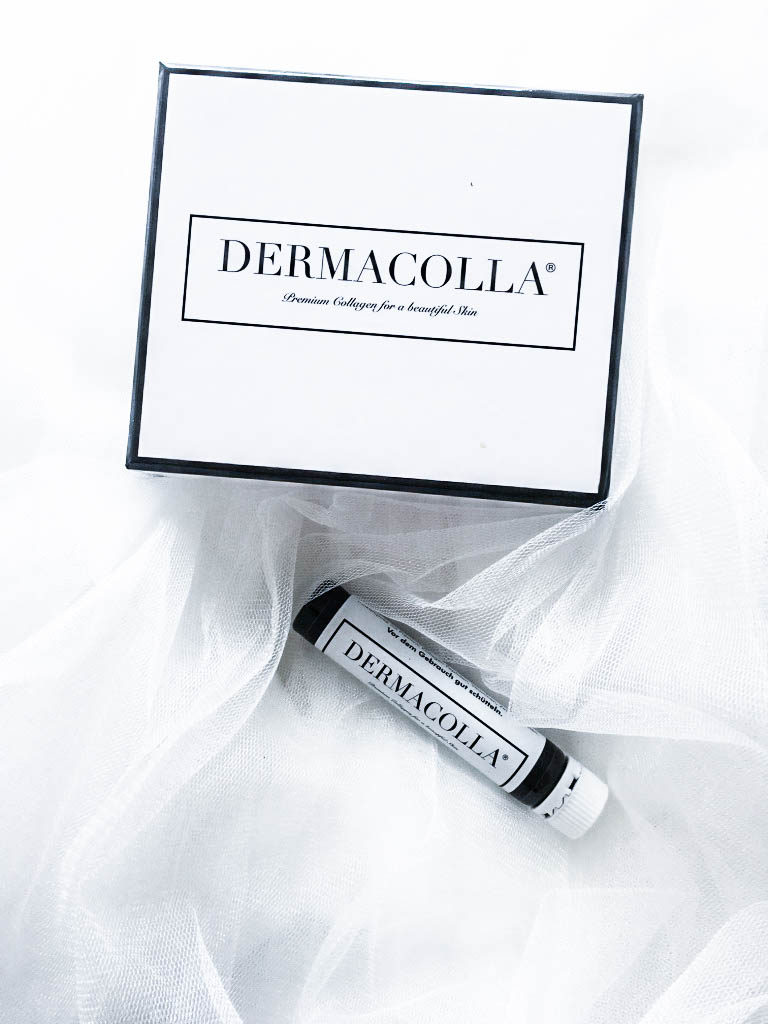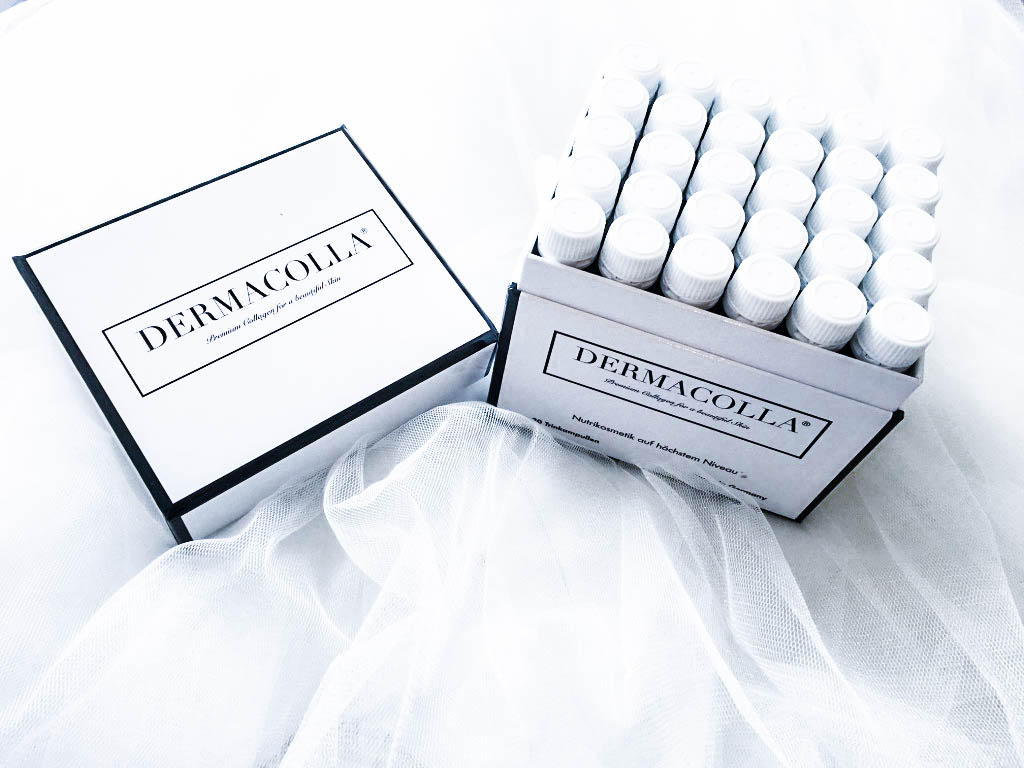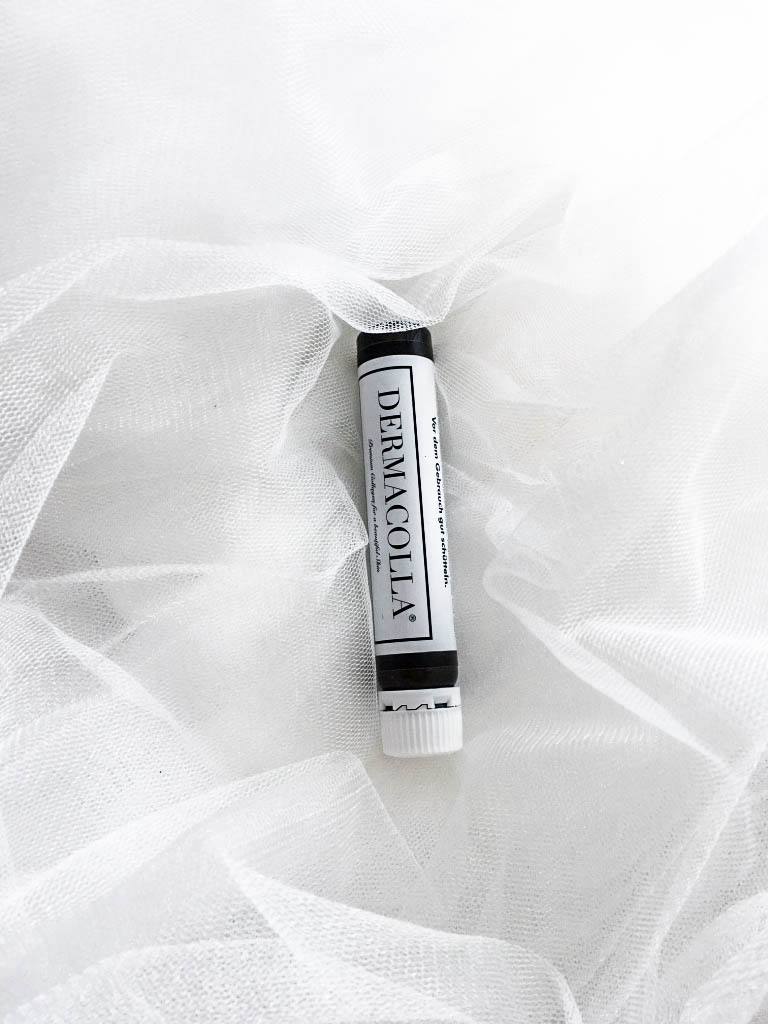 This article was written in friendly cooperation with DERMACOLLA. //
Dieser Artikel wurde mit freundlicher Unterstützung von DERMACOLLA verfasst.