The New It Bag Chloé "Nile"
At the beginning of the month during Paris Fashion Week I was in Paris to check out the latest designer collections for autumn and winter of 2017/18. At the end of my stay it was pouring, so my fiancé and me decided to visit the Galeries LaFayette to rescue ourselves from the rain (this is what he thought) and to check out the latest trends for spring/summer 2017 (is what I had in mind). :)
When we passed by the Chloé shop, I immediately spotted the new Chloé Nile bag that was already sold out in Germany and fell in LOVE with it. At this time Chloé exposed that Natacha Ramsay-Levi was appointed as the new creative director of Chloé and that Clare Weight Keller would leave the company after successful six years at the company. While Waight Keller was appointed as the new artistic director of Givenchy, succeeding Riccardo Tisci, it was her who established the #chloeGIRLS phenomenon that became a style direction for many girls and women among the globe. The romantic yet mature designs brought a new sense of vitality to the Parisian house, not seen since Phoebe Philo was creative director.
With the knowledge that this would be the last collection of Clare Weight Keller for Chloé, I just couldn't resist but had to buy the Chloé Nile bag that was also traded as becoming the New It Bag for 2017!
I was super happy when I bought it but can you guess what my financé, who is more into cars than fashion, thought about it! :) //
Anfang März, während der Pariser Fashion Week war ich selbst vor Ort, um die neuesten Modekollektionen für Herbst und Winter 2017/18 auf den Fashion Shows anzuschauen. Als es fast wieder soweit war die Stadt der Liebe zu verlassen und es fürchterlich regnete, beschlossen mein Verlobter und ich einen letzten Stopp in den Galeries Lafayette zu machen. Während er dachte, dass wir nur einen kurzen Stopp machen würden, um dem Regen zu entkommen, hatte ich natürlich weitaus mehr im Sinn, denn mir ging es eher darum die neusten Trends für Frühjahr/Sommer 2017 zu entdecken. :) Als wir am Chloé Shop vorbeikamen, richtete sich mein erster Blick auf die neue Chloé Nile-Tasche, die bereits in Deutschland ausverkauft war. Es war LIEBE auf den ersten Blick!
Zu diesem Zeitpunkt hatte Chloé bereits bekannt gegeben, dass Natacha Ramsay-Levi die neue Kreativdirektorin der Marke werden würde und dass Clare Weight Keller das Unternehmen nach erfolgreichen sechs Jahren verlassen würde. Fast gleichzeitig gab Givenchy bekannt , das Clare Waight Keller die neue Chefdesignerin von Givenchy (zuvor war es Riccardo Tisci ) werden würde. Mit Spannung kann nun erwartet werden, was aus dem Phänomen #chloeGIRLS, das von Wright Keller etabliert wurde und für eine romantisch-verspielte Stilrichtung stand und mit dem sich Frauen und Mädchen weltweit identifizieren konnten, werden wird.
Mit dem Wissen, dass ich in diesem Moment vor der letzten Kollektion von Clare Weight Keller für Chloé stand, war es mir unmöglich zu Wiederstehen. Ich musste die Chloé Nile-Tasche unbedingt probieren und schließlich kaufen. Eine Tasche, die ebenfalls als die neue It Bag für 2017 gehandelt wurde!
Ich war super glücklich als ich die Tasche endlich MEIN nennen durfte! Könnt ihr erraten was allerdings mein Verlobter empfand, der eher einen Faible für schnelle Autos als für die neuesten Trendtaschen hat! :)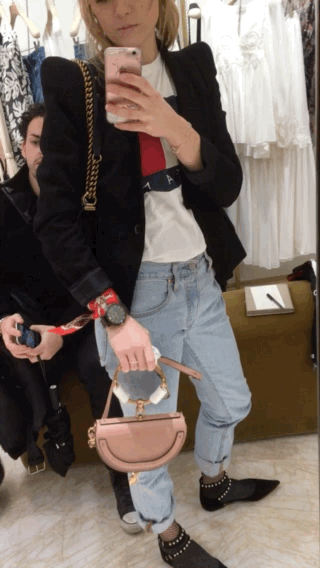 After "Drew", "Faye" and "Hudson" may I present the new "Nile" Chloé bag! //
Nach der "Drew", "Faye" und "Hudson" darf ich vorstellen, die neue "Nile" Chloé Tasche!
So what's so special about the new bag for Spring/Summer 2017? It is the half-moon silhouette combined with a circular metal handle and delicate and studded details which represents for me the most beautiul new bag design for the new season. //
Aber was ist nun das Besondere an der neuen Tasche für Frühjahr/Sommer 2017? Es ist die Halbmond-Silhouette, kombiniert mit einem kreisförmigen Metallgriff und zarten Details, die für mich aktuell einfach das schönste Taschendesign repräsentieren.
If you are in love withe the Chloé Nile bag as well hurry up and check out the Nile bags below. //
Wenn ihr euch wie ich in die Chloé Nile Tasche verliebt habt, dann beeilt euch und checkt die noch verfügbaren Nile Modelle auf den unten aufgeführten Shops aus.
SHOP THE CHLOÉ NILE BAG